UMI 2007
Marine Mining in the Pacific: Science, Economics, and the Environment
The 37th Annual Conference of the Underwater Mining Institute
October 15–20, 2007 • University of Tokyo, Japan
Agenda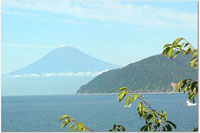 View photos from the UMI 2007 conference at the University of Tokyo and the Geotechnical Field Tour!
Download a PDF of last-minute information for participants.
Download the UMI 2007 Final Program PDF.
Monday, October 15, 6:00 – 8:00 PM: Welcoming Reception and Registration, Forest Hongo Hotel
(Download a map to the hotel, 416K JPG.)
Tuesday, October 16, 9:00 AM – 5:00 PM: Technical Session I, Sanjo Hall, University of Tokyo
UMI Banquet, Sanjo Hall, 6:00 – 8:00 PM
(Optional Spouses Day Tour in Tokyo, 10:00 AM – 4:00 PM, spouses/guests only)
Wednesday, October 17, 9:00 AM – 5:00 PM: Technical Session II
(International Marine Minerals Society General Membership Meeting, 8:30 – 9:00 AM)
(Optional Japanese Dinner Tour, evening)
Thursday – Saturday, October 18-20: Geotechnical Field Tour to Hakone-Izu.
(Optional at additional cost; depart in early morning and return around 3:00 PM)
[ Top of this page ]
Fees
Registration
To register online, click on the REGISTER NOW button above.
The UMI fee schedule below provides for regular and late registration options, as well as a discount to current members of the International Marine Minerals Society.
Regular Fee: Member USD 395, Non Member USD 420. The regular fee covers the welcoming reception, both technical sessions and materials, UMI banquet, and 2008 membership to IMMS (USD 25).
Senior Fee: Member USD 350, Non Member USD 375. This fee is provided as a courtesy to retired professionals who are no longer supported by an institution or company. These participants are entitled to the welcoming reception, both technical sessions and materials, UMI banquet, and 2008 membership to IMMS.
Single-Day Fee: Member USD 275, Non Member USD 300. This fee entitles the participant to one technical session on October 16th or 17th along with the associated materials and 2008 membership to IMMS.
Special Commercial Exhibit Fee: USD 1200. This fee allows for a company booth (1.8 m x 1.8 m) exhibit and one delegate to attend the UMI. Up to ten booths are available. For payment of ¥ 150,000 in Japan, please contact one of the Japanese hosts.
Student Fee: USD 325. The student fee includes the welcoming reception, technical sessions and materials, UMI banquet, and 2008 membership to IMMS. Students must provide verification of student status and be willing to assist during the conference.
Late Fee: A late fee of USD 25 is assessed for those registering after August 15, 2007.
[ Top of this page ]
Sessions / Other
Spouses' Day Trip Fee (October 16, Tuesday, about 10:00 AM – 4:00 PM): USD 50. This feature of the UMI is open only to spouses and guests of UMI participants and includes a personalized and relaxed tour of special Tokyo sites (the Imperial Palace, historic monuments, and museums). The fee covers surface transportation, lunch, and admission fees.
Banquet Fee for Single-Day Registrants, Spouses, and Guests (October 16, Tuesday, 6:00 – 8:00 PM): USD 90. This fee applies only to single-day registrants, spouses, and guests of the UMI. (If you are a regular, student, or emeritus participant attendance at the banquet is already included in your registration fee.).
Japanese Dinner Tour (October 17, Wednesday, 7:00 PM): USD 60. Open to all participants, spouses and guests, this is a personalized and relaxed dinner party guided by one of the UMI hosts to include typical Japanese dishes and liquors located in the University area.
Geotechnical Field Tour Fee October 18 – 20: USD 400 per person. This is a 2-night, 3-day tour to the Hakone-Izu National Park area. Twenty-five (25) openings are available and the fee covers complete bus transportation, admission fees, and double accommodations. Stops include JAMSTEC at Yokosuka, active volcanic features at Hakone area, tourist gold mines, and pyroclastic beds from a boat--with spectacular scenes of Mount Fuji and well-preserved forests nearby. Additional visits may include cultural spots, such as a Zen temple and a historic barrier of the Edo era. Participants and their guests are welcome to join the tour. The deadline to register for this tour is August 15, 2007.
October 18: Depart University of Tokyo and travel by bus to JAMSTEC and the Hakone-Izu National Park.
October 19: Visit Hakone caldera, fumaroles, aborted gold mine, etc.
October 20: Boat ride near a volcanic ash beds beach. We will return to Tokyo around 3 PM. If you need a hotel room for Saturday, October 20, please complete the Hotel Reservation Request Form (PDF).
Book of Abstracts: One copy of the book of abstracts is provided to each participant; however, additional copies maybe purchased for USD 40 (¥ 5000).
Payments
Complete your registration online. [First, Login with your email address and password (or create a new one), then click "Register for UMI"]. Only VISA or MasterCard payments are accepted online. The deadline for Regular Registration to the UMI is August 15, 2007, and registrations after this date will incur a late fee of USD 25. The downloadable Registration Forms (PDF) may also be used to complete your registration and payment.
Cancellations
Refunds (less a USD 30 processing fee) will be allowed for written cancellations (email or fax) received by September 15, 2007.
[ Top of this page ]
Field and Tour Guides (PDFs)
[ Top of this page ]
Travel to Japan
Entry Visa
Please contact Dr. Tetsuo YAMAZAKI (tetsuo-yamazaki@aist.go.jp) by August 15, 2007 for an invitation letter and the necessary materials to be submitted to the Japanese embassy or consulate needed for an entry visa. This invitation provides no travel funding.
Access Information
The closest international airport is Narita International Airport (NRT). To get to the conference center from Narita, take a train (Keisei Line; 70 minutes) to Ueno that is 1 kilometer away from the University of Tokyo. Take a taxi to the Hall or Hotel (10 minutes). Tokyo station is about 20 minutes from the University by subway or taxi.
[ Top of this page ]
Meeting and Hotel Venues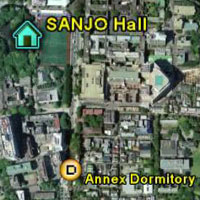 UMI 2007 will convene in the Sanjo Conference Hall at the University of Tokyo. Accommodations are available in standard hotels and an on-campus dormitory adjacent to or within a short walk (up to 20 minutes) to the Hall. Rooms at special conference rates are being held for UMI participants until August 15 only. All accommodations are in a standard class, clean, and secure. (Click on the small aerial photo image to the right to open a larger version showing the area.)
Forest Hongo Hotel: 2 twin rooms (¥ 16600, ~USD 140) and 15 single rooms (¥ 9900, ~USD 82); 5 minutes to Hall, standard compact hotel.
Tokyo Garden Palace Hotel: 10 twin rooms (¥ 14500, ~USD 120) and 20 single rooms (¥ 9900, ~USD 82); 20 minutes to Hall, a standard hotel and more spacious than Forest Hongo.
Sanjo Hall Annex Dormitory: 4 twin rooms (¥ 8400, ~USD 70) and 10 single rooms (¥ 6000, ~USD 50); 5 minutes to Hall, no front desk.
Rates listed above include taxes, but no meals.
For those participating in the UMI Field Tour, hotel arrangements can also be made for Saturday, October 20, in the same hotel at The University of Tokyo or at a hotel in Tokyo with limousine service direct to Narita Airport (about USD 100).
To reserve accommodations, please complete and email the Hotel Reservation Request (PDF) or pertinent information to the UMI Conference Coordinator (karynnem@hawaii.edu) no later than August 15, 2007.
[ Top of this page ]
Conference Contacts
Conference Coordinator: Karynne Chong Morgan
University of Hawai'i, 1000 Pope Road, MSB 303, Honolulu HI 96822
Tel: +1 808.956.6036 • Fax: +1 808.956.9772
E-mail: karynnem@hawaii.edu
[ Top of this page ]